RPR, or Realtor Property Resource, by nature, is meant to be a tool for licensed Realtors to access listing and tax data throughout the country. Due to its exclusive access assistants and non-Realtor office personnel will not have the ability to create an account with RPR directly. To give an assistant or non-Realtor access to RPR for research or marketing purposes you will need to add them as an assistant within RPR and they will receive an email guiding them through signing in with their own username and password.
To start, sign in to RPR, then click on your profile or the arrow at the top right corner, then click on Profile:
Scroll to the bottom where you should find the Assistant Users section and click Create New Assistant User:
Fill out the details about the assistant, the name, email address, and phone number are required:
The assistant will then receive an email asking them to sign-in and customize their password: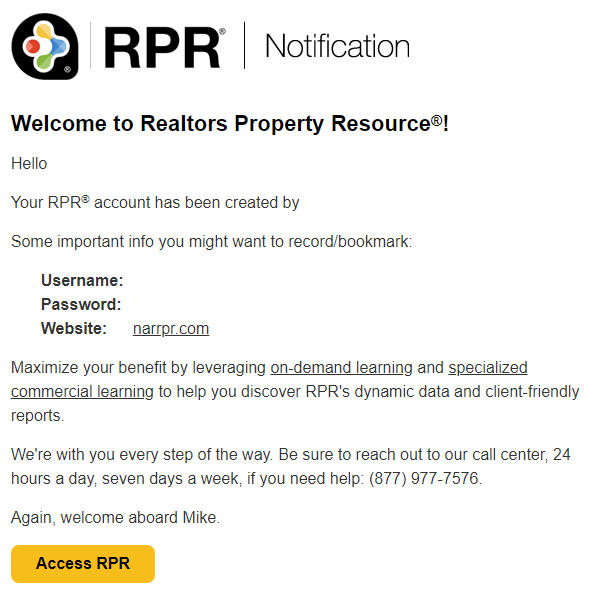 When they click the link to "narrpr.com" or the Access RPR button it'll bring them to the MLS Portal login. They can then sign in to the MLS and head to RPR through the link on our Portal, or, if they're not part of the MLS in any capacity, they can go directly to https://www.narrpr.com/ and enter their Username (their email) and their temporary password. Once they're in using those credentials they'll be asked to customize their password and will now have access to RPR through your account.
NOTE: It is recommended that the Broker be the one to setup and maintain the assistants.