Reverse Prospecting lets you view a list of agents that have an Auto Email search that matches your listing. The Reverse Prospecting list only includes agents that have made their search available on the Auto Email settings page. You can contact the matching agents to send them additional information about your listing.
Important Note: Other agents CANNOT see your client contact information. They can only see that you, the agent, has a client that is a potential match.
How do I see Reverse Prospecting?
Under My Matrix, select My Listings.
Select a listing and choose "Reverse Prospecting" from the toolbar below. This is ONLY available for Active listings. No other statuses support Reverse Prospecting.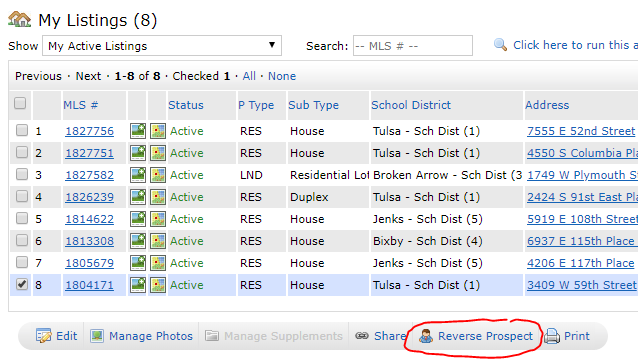 This will give you the Reverse Prospecting results. The Results Count shows the number of listings, including yours, that match their buyer's search. This lets you know how many other listings are being sent to that potential buyer.
"Agent" is the buyer's agent – clicking on their name will take you to the email screen where you can send them a message about the property.
Ref# is the Contact ID# the Agent has for the client. This is so you do not get their name.
The email envelope is marked if you have contacted them before. If there is no mark, you have not contacted them about this listing.
Count is the amount of listings their client is receiving. Your listing counts for one of these.
The Date Sent is when your listing was sent to their client.
The email address is for the agent, as well as the office name and phone.
IMPORTANT NOTE: ONLY ACTIVE LISTINGS WILL BE VIEWABLE WITH REVERSE PROSPECTING
I have a listing that's been updated, and I want to use Reverse Prospecting to let the Agent know there's been some updates to the home their buyer is interested in. How do I do this?
Go to your Reverse Prospecting and click on the Agent's name that you'd like to send a message to.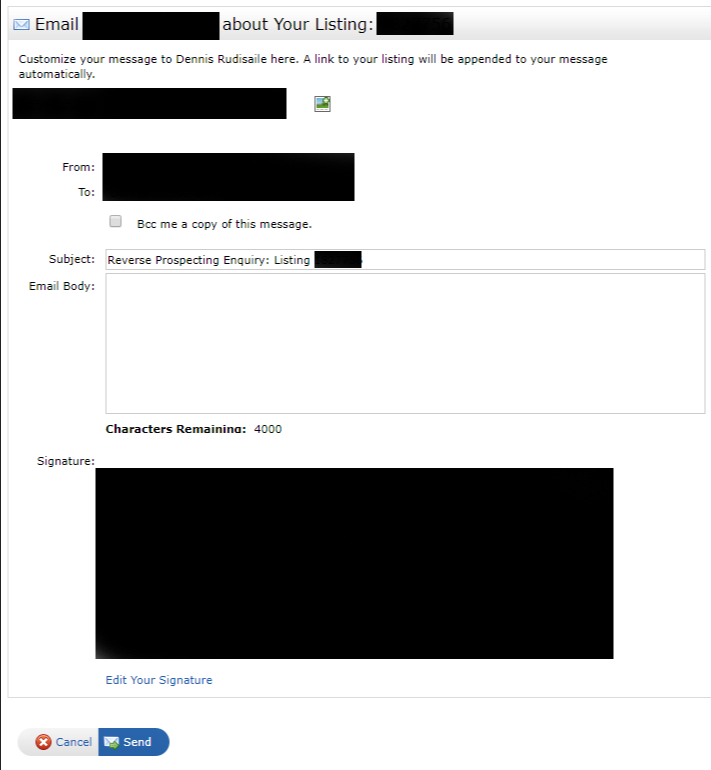 Type your message and send.
How do I view Reverse Prospecting messages?
Under My Matrix, select Reverse Prospecting Email History – you can view messages sent and received using Reverse Prospecting here.
What if I don't want my client to be included in Reverse Prospecting?
Under My Matrix, select Auto Emails and click the drop-down arrow to expand the search you wish to disable Reverse Prospecting for, and then click Settings.
Remove the checkmark next to "Show this contact in Reverse Prospecting results" and select Save.
That's it! Enjoy Reverse Prospecting—letting you market your properties to agents who have clients that are interested in your property!