Please click here to learn about Understanding Realist Map Tools
Your searches may start out on the My Search Panel, but the Realist Map includes tools that help you gather additional information to build or expand your search criteria. When properties that match your search criteria are found, they are displayed on the Map with a push pin. You can click the push pin to zoom in on the property or run reports, including property detail, comparable properties in the area, market trends like sales price and market conditions, a complete neighborhood profile, and foreclosure data.
NOTE: It is important to note that the Map always takes precedence over other searches. Once you begin working on the Map, the criteria of the search will relate directly to what is happening on the Map, and some fields, like Zip Code and City, will be disabled in the Search Results Grid.
Saved Shape Searches
You can also use drawing tools to mark the search boundary(ies) that will be added to your My Search Form. When a shape is drawn on the Map, it automatically becomes part of your My Search Template with values.
NOTE: Drawing a shape on the map is an excellent way to search for parcels in a particular subdivision. Because of the subtle differences in how a particular subdivision name appears on a parcel record, physically identifying a subdivision by its boundaries may be a better way to ensure you receive your expected results. These shapes can then be saved as a Saved Search to reuse later: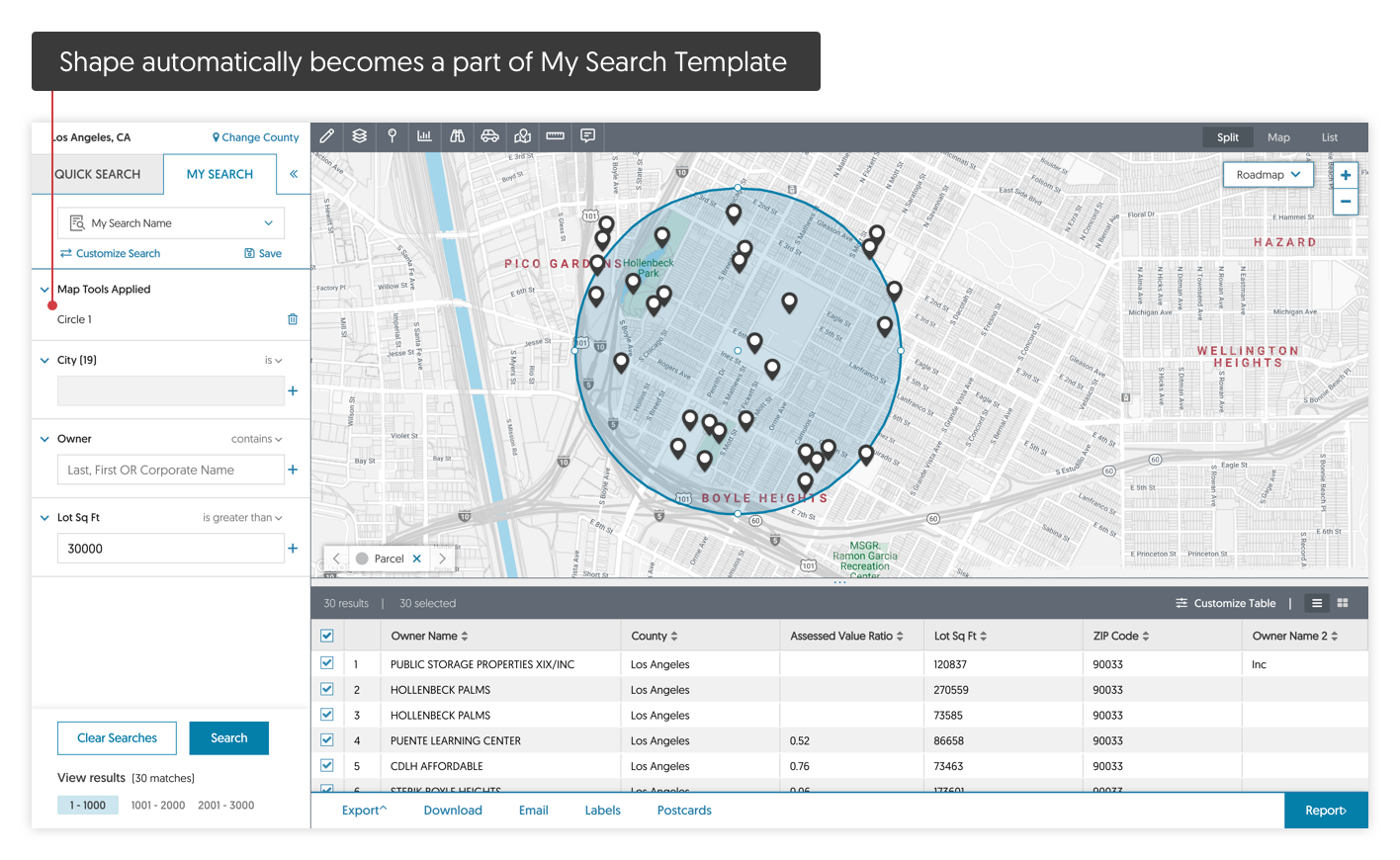 For More Information
For detailed information on using the Shape Drawing Tools, refer to Working with Drawing Tools.
Boundaries
Using Boundaries you can view important information related to properties that helps to visualize surrounding features such as parcel boundaries (or Neighborhoods, County, City, Zip Code, School District, etc.), and Points of Interest, which highlight nearby banks, restaurants, schools, etc.
Quick Identify
Quick identify lets you quickly view a parcel boundary by clicking any area on the Map.
This brings up the Property Detail Card: